Information for Graduate Students
Future Graduate Student Information

The Department of Mathematical Sciences provides unique opportunities for innovative instruction and cooperative research. With approximately 30 Ph.D. faculty and 70 graduate students, the department is large enough to attract and retain the most capable faculty, but small enough to allow faculty and graduate students an intimate atmosphere for the easy exchange of ideas.
Learn more detailed information on application requirements and how to apply by reading our Graduate Program Application Procedure.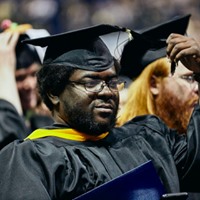 The Department of Mathematical Sciences offers M.S. and Ph.D. degrees in the following areas:
Graduate Teaching Assistant Information
The Department of Mathematical Sciences provides graduate students with a unique opportunity to teach in a classroom and discover a passion for teaching. The department values quality teaching and provides teaching support for graduate students. In the Excellence in Teaching Symposium, we explore how to enhance our teaching and develop as instructors of mathematics and statistics. This kind of support and teaching are fantastic opportunities that offer graduate students a well-rounded experience.
Current Graduate Student Information
Recent Graduate Student Accomplishments
Useful Links to Departments, Documents and Forms
Updated: 6/6/19