Visitor Information and Directories
Information
Founded in 1893 as Montana's land grant college, MSU-Bozeman is a comprehensive, multipurpose university integrating programs of instruction, research, and public service. Our campus is located in the heart of the Gallatin Valley surrounded by various mountain ranges. The elevation of Bozeman is 4820 feet and it is located approximately 90 miles from Yellowstone National Park. (See Directions to Campus below).
Southwestern Montana, with its network of rivers and streams and its mountain lakes, is a paradise for people who enjoy outdoor recreation. For a closer look of Bozeman and the MSU campus, please see the MSU Gallery . The campus covers 1,170 acres and includes about 60 buildings, which can be viewed on the campus map. The Department of Mathematical Sciences is located in Wilson Hall.
Our nearest airport is Bozeman Yellowstone International (BZN), located eight miles from Bozeman. There is a Greyhound bus stop based outside the Lawn & Garden entrance to Wal-Mart in Bozeman.
Annual precipitation in Bozeman is around 24 inches, much of it being snow. There are two ski resorts located nearby (Bridger Bowl and Big Sky).
Directions to Campus
Map to the Bozeman Campus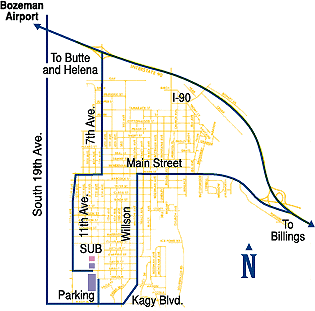 Bozeman, Montana, is located on I-90. Two interstate exits will bring you to the campus of MSU-Bozeman.
From the west, take exit 305 onto North 19th Avenue and follow it south to Kagy Boulevard (you will pass through four stop lights). Turn left onto Kagy (the fifth stop light) and continue to South 7th Avenue; turn left and continue to parking areas.
If you take exit 309 from the east onto Main Street, proceed west to Willson Avenue, turn left, and travel 18 blocks to Kagy Boulevard (first traffic light on Willson). Turn right and continue for three blocks to South 7th Avenue, turn right again, and you will see the parking garage (where to park).
Links
Bozeman Information
Publications
Updated on: 10/12/2012.