John R. Lund
Professor of Mathematics, numerical analysis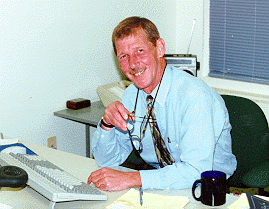 Professor Lund's research interest has focused on the various applications of sinc function approximation techniques in quadrature and differential equations. He has published in a variety of journals including Mathematics of Computation,Journal of Computational and Applied Mathematics, Numerische Mathematik, Journal of Computational Physics, International Journal for Numerical Methods in Engineering, Inverse Problems, IMA Journal of Numerical Analysis, Numerical Methods for Partial Differential Equations, and SIAM Journal on Numerical Analysis. He is also associate editor of Journal of Mathematical Systems, Estimation and Control, co-editor of the volumes Computation and Control I, II, III, and IV and co-author of the book Sinc Methods for Quadrature and Differential Equations.
Education
Ph.D. in Mathematics,1978, University of Utah
M.S. in Mathematics, 1973, University of Utah
B.S. in Mathematics, 1971, University of Tennessee
Additional Information
Send me an email if you have any questions or comments.
Photo Gallery