Math Learning Center - MLC
Open for Digital Tutoring to Support Math & Stat Courses
Purpose:
In order to provide drop-in tutoring while following the recommended guidelines regarding social distancing, the Math Learning Center will be conducted remotely. The MLC uses the Microsoft Teams platform to provide online tutoring for the eligible mathematics and statistics courses. Our goal is to support students as they develop learning skills required for their respective courses.
Hours & Staffing:
The hours of the MLC for Summer Session I: 5/10/21-6/18/21
Sunday- Friday 1pm-5pm

The MLC will be closed on the school holiday: Monday 5/31 (we will have Sunday hours 5/30)

There will be one tutor designated to assist with 200-level math classes; one tutor designated to assist with statistics classes; and one tutor designated to assist with 100-level math classes.

200- level math help will not be available on Sundays
The hours of the MLC for Summer Session II: 6/21/21-7/30/21
Monday- Friday 2pm-5pm

The MLC w ill be closed on the school holiday: Monday July 5th, 2021.
Course Eligibility
The MLC is supported directly by student fees associated with the following math and statistics courses:
M105, M121, M132, M133, M151, M161, M165, M166, M171, M172, M181, M182, M221, M234, M273, M274, M283, M284
STAT216, STAT217, STAT332
Because that's where our tutors' expertise lies, these are the only courses that the MLC supports. In order to provide you with the best support possible, please only use the MLC if you are currently enrolled in one of the above math or statistics courses. If you are enrolled in a Gallatin College math course, please contact your instructor for support.
Access Microsoft Teams:
All students have a Microsoft Teams account through their Outlook. You just need to log in and then join the MLC team. Follow the instructions below to access the web-app version of Teams.
You can also download the Teams software from the Microsoft Website using the same user name and Net ID password format that is listed here. There is also a mobile app you could use!

Once you've joined the team, navigate to the channel for your course on the left-hand side of the screen. If you see a place to click "20 hidden channels", click on that and click on "Show" for your course channel. You may need to scroll down to see your course channel. Once you have shown your course channel and are in your course, click the "New Conversation" Box, type a message, and send the message. For example:
"Hi, I'm Elizabeth. I'm working on a M161 HW assignment in Web assign about intervals of increasing/decreasing and I need some help."
Tutors are monitoring all the course channels and someone who is available will reply and likely ask you some follow-up questions. First, they will inquire whether you want to have a text conversation or if you would prefer a video call.
Replying
Once you've got a conversation going, do your best to "reply" to the conversation you initially started instead of using the "Start new conversation" button. This helps the tutor track the appropriate notifications and keeps the chat threads organized! It also allows us to help more than one person at a time. If you want to chat, you can post a screenshot of your online HW in the reply line with copy and paste. Or, you can attach a PDF or other file type using the paper clip icon under the reply line.
Video Calls
Please do not direct video call a Tutor. If you want to have a video call, request that when you ask your question. Please allow the Tutor to set up the video call for you. They are trained in how to best manage the workflow in Teams and it creates issues if you directly call Tutors. If the volume of students a tutor is working with does not at the moment allow for a video call, you may have to wait until a tutor is available for that. Or, if there are multiple students asking the same question, you can expect a tutor to group students into a common video call.
If you choose to be in a video call with a tutor, they will write the topic you will be working on as the subject of the call. This allows other students, who might be working on the same thing, to join the video call just as they might sit at the same table as you in the physical MLC. This enables us to help similar students with similar topics at one time. It also promotes students to engage with one another on the material. If you see an ongoing video call in the course, please join in! You should see a "Join" button within the course channel if an active video call is occurring and you are welcome to add yourself in.
If you request to do a video meeting you can expect the first meeting with the tutor to last about 15 minutes. The tutor's job is to assess where you are with the material and guide you to your resources as a tool to enable you to start the problem. If you do not get all your questions answered in these 15 minutes, do not worry! The tutor will come back to check on you. In order to assist all students in the MLC, we need to work with each student about 15 minutes at a time.
If you are experience bandwidth issues, consider turning your video stream off if necessary. Sometimes, if you have connectivity issues, this might help.
Notifying a Person
You can use the @ symbol to notify someone. So, if you were being helped by someone specific and they left you for a minute to work on something while they engaged with someone else, you can @person to notify an individual to send a conversation directly to them. For example, you could write in your reply
@Mery,Elizabeth I finished that question, can you check back on me?
Please only use the notification for tutors that you already were working with. If you try to @ any tutor for attention, it is possible they may not be on shift at that time. Tutors are monitoring all channels and will respond to you when they are available for new questions.
Notifications
A channel's name turns bold with new activity. Customize notifications by clicking on your icon (upper right) -> Settings -> Notifications on the left hand menu.
Expectations:
Please come prepared to invest your time and energy in fostering new and improved study skills relevant for your success. You can expect a tutor to ask you what you have already attempted and inquire where the material is in your notes. It's okay to not know exactly where to start. Your job is to think of some ideas about what could be a place to start and do your best to think about the tutor's questions. The tutor's job is to understand where you are so they can help guide you through the learning process by developing your critical thinking skills. Our tutors are trained in helping you develop responsibility for your own learning so you can approach many math and statistics problems in the future--not just the one immediately in front of you. The purpose of the Math Learning Center is to engage you in learning how to learn. Therefore, you can expect the tutor to ask you to watch the necessary videos/read the appropriate section in your book first if you have not already done so. You can also expect a tutor to find a similar problem to the one you are working on in an effort to solidify your understanding with the concept and thus empowering you to attempt your HW or exam question on your own.
For this reason, the tutors are will not "just check your answers". Asking "Can you just check and see if I'm doing this right?" will usually be followed by the tutoring asking you to do your best to communicate where you are confused. Being able to understand what you do not understand is a crucial component of the learning process and we are trying to help you develop this skill. If you want your assignment checked, it'd be best to talk to your instructor about that during office hours.
Please also remember that even though you will be in a virtual "MLC Room," all behavior and conduct should align with MSU's student code of conduct. Please respect your own and others' confidentiality and do not post information about grades, health status or any other personal information in the chat threads.
Optimizing Your Online Learning Experience
Tips from Our Own Tutors
Below is a categorized list of tips to make your online learning experience as fruitful as possible. These come from our very own tutors, who are students themselves and have invested a lot of time in learning what works for them when it comes to studying in general as well as online learning.
For more tips on online learning check out the MSU Academic Technology and Outreach advice!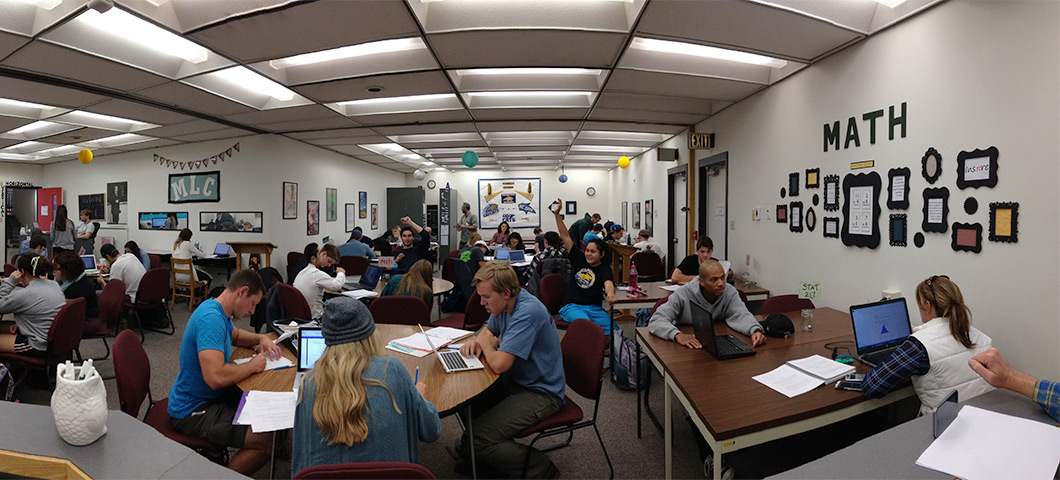 Earn ChampChange
Working in the MLC
MLC Faculty