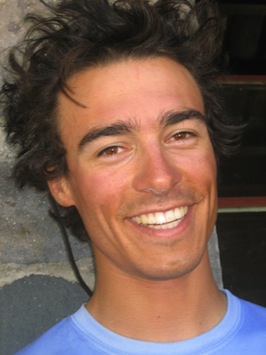 I live in Bozeman, Montana, as an Associate Professor of mathematics at Montana State University. Previously, I was a postdoc at the University of Southern California, Harvard University, and the University of Copenhagen. I received my PhD through Stanford University under the supervision of Ralph Cohen.
See my abbreviated Curriculum Vitæ for specifics.
Research
Much of my research is framed by the following paradigm.
Invariants of locally standard entities -- such as manifolds, links, or (derived) schemes with very few points -- that possess a nuanced local-to-global expression can be constructed from (higher-)algebraic, or (higher-)categorical, data. The result, factorization homology, is an association of an object, such as a vector space, from such an entity and such a (higher-)algebra/category.
Deformations of the algebraic/categorical input are organized as a likewise algebra/category -- this is Koszul duality. Through factorization homology, Poincare' duality intertwines with Koszul duality, thereby offering unforseen identities of, and within, the values of factorization homology.
(Scores of classical, and more recent, identities can be recovered as instances of this paradigm.)
Papers
Other projects
An approach to less climate-impactful conferences (with Lukas Brantner, Theo Johnson-Freyd, Andre Henriques, and Aaron Mazel-Gee; London Mathematical Society Newsletter, no. 480, pages 32-33).
We organized a somewhat experimental conference — a "double-conference" — which was a single event held in two locations: the Perimeter Institute in Waterloo, Canada; the Max Planck Institute for Mathematics in Bonn, Germany. The intention was to implement, and possibly set a model for, an international conference that avoided trans-Atlantic travel. The spirit of doing so was two-fold:

To decrease environmental impact of cutting-edge mathematics conferences.
To decrease the financial (and other) burdens of travel to attend such conferences, thereby accessing a broader community of researchers.

Factorization homology II: adjoints (with John Francis and Nick Rozenblyum; to appear).
We show that, in the presence of adjoints, factorization homology is naturally defined on solidly n-framed stratified manifolds.
The orthogonal group and adjoints (with John Francis; to appear).
We amalgamate the Schubert stratifications of Grassmannians to combinatorialize the orthogonal group, as a group. We construct a lax-action of this combinatorial orthogonal group on n-categories. This action is implemented by adjoining adjoints.
Other Stuff

You may require Adobe Acrobat Reader to view the PDFs on this page.